2009-08-27 Tailgate ... Bengals vs. Rams (preseason)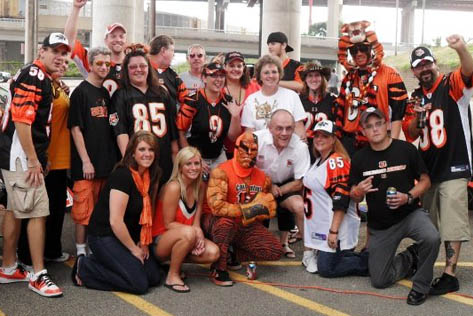 We were the first tailgate of the season! The Who Dey Heroes bus pulled into Lot 1 abour 345pm and we lucked out with a spot right next to our usual area! After we unloaded, with some adjusting, everything was able to be set-up as normal and the tailgate was off!
Highlights included the photographer from Metromix stopping by not once, but TWICE! He declared us the first tailgaters he'd come across this year and snapped a shot of us as we set-up. In addition, neighboring tailgaters stopped by to check out the tailgate and the bus and a reporter from the Cincinnati Enquirer took some information and plans to return so she can feature us in an upcoming article/issue. WHO DEY!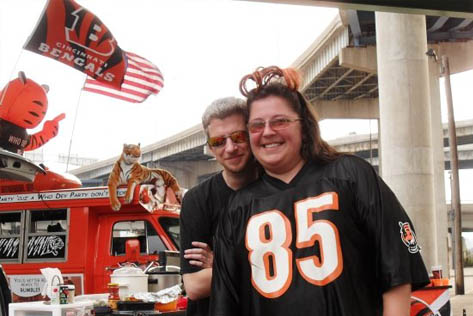 Both inflatables made it up, HARD KNOCKS was playing on the TV, and the new sound system worked great! For our first tailgate with the generator, we had no limits to our power and hot food out of the crockpots and off the grill!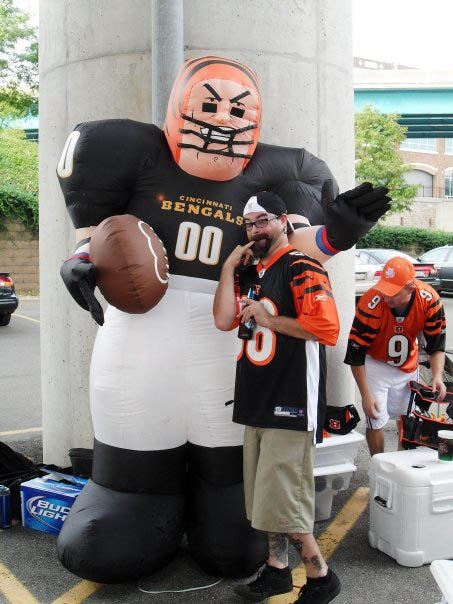 WhoDeyBaby made it in time, from his long drive from Columbus, to have one final bomb with us before kickoff! We had three different bombs to start off the tailgate season ... Cin Bombs (courtesy of Kelly, aka BrewCrewGrrl), Tiger Bombs (from Thing & WhoDeyBaby's last minute Hall of Fame recipe), and our traditional/original Bengal Bombs!! Plus, a new Bengal Orange blender drink made its debut as we fired up the blender for the first time!'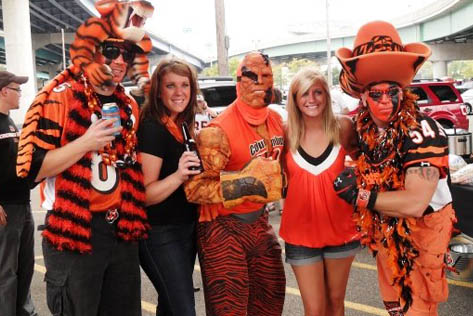 A fantastic tailgate to kickoff the 2009 Bengals Season with ... and this is just the beginning!