2009-09-03 Tailgate ... Bengals vs. Colts (preseason)
The Who Dey Hero bus hauled it's biggest group ever as we pulled into Lot 1 at 345 once again (thanks to downtown traffic) for the year's 2nd tailgate. With a bit of luck, we had some space waiting for us right in our usual spot, so we unloaded and set-up for what was an unbelievable tailgate!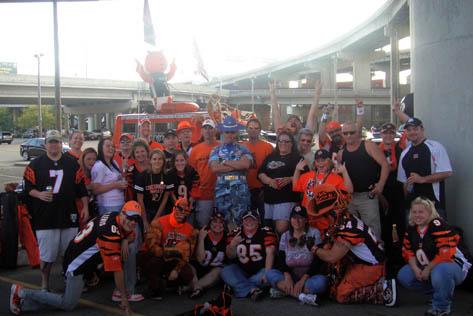 Burgers were grilling, WhoDeyBaby brought some killer Bahama Mama sausages that just plain rocked, and there was probably one of our widest varieties of food ever (all of it in the "traditional Backyard BBQ"-style. We even had a special guest as super fan Sgt. Colt joined the party and was caught enjoying a fine cigar with The Bengal Thing and the maniacal Jason Hex!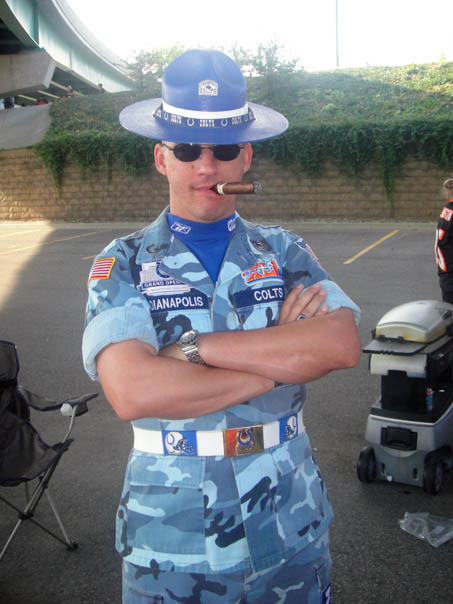 There was a rousing rendition of the Dropkick Murphy's classic song "Kiss Me..." just to get everyone in the right party mood, with some neighbors left wondering just what on earth we were doing. Oh well, we improved their taste in music. Plenty of bombs to go around, which may have ended up being one too many ... as the tragic loss was felt by all when Bengal Thing's camera crashed to the ground, leaving a somber tone over the end of the festivities. However, even in the preseason, there's nothing quite like a Bengals victory and a good, old-fashioned WHO DEY to ensure the everyone ends the night in good spirits!